Adresboek venster
Het Adresboek venster wordt vanuit het Adresboek item in het hoofdmenu geopend of via het menu pictogram. Het geeft toegang tot een lokaal adresboek dat in de client is opgenomen.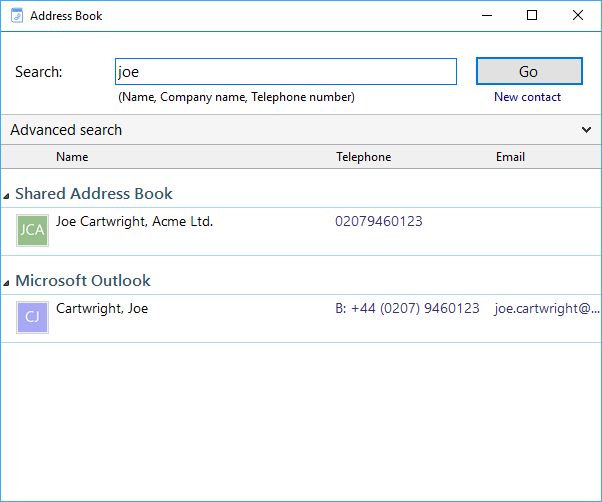 Zoek tekst
Voer de tekst in om binnen de contacten te zoeken.

Klik op deze knop om met zoeken te beginnen.

Klik op deze knop om een ​​nieuw contactbestand aan het lokale adresboek toe te voegen.

Gerelateerd onderwerp: Contact venster
Geavanceerde opties knoppen
Klik op deze knop om de geavanceerde opties voor verdere verfijning van de zoekresultaten te tonen.

Als u te veel resultaten terug krijgt, kunt u overwegen om met behulp van de Geavanceerde opties uw zoekopdracht verder te beperken. Gebruikers kunnen op adres velden filteren, zoals plaats of postcode (Waar), andere velden (Wat) en de specifieke database waar u denkt dat het contact momenteel opgeslagen zou kunnen zijn (Bron).

Zoekresultaten
Klik op het telefoonnummer van een contactpersoon om hen te bellen.