Installation
The PHONE-LiNK Mac Client software is supplied as an Internet download. It is a self-contained installer that contains the files needed to install a copy of PHONE-LiNK Mac Client.

You then "insert," or "mount," the disk image onto the machine by double-clicking on the file. Having done this, the disk image will appear as another device in the Finder (see below).

Double-click on the PHONE-LiNK device. Now you've got two options, you can either drag the file across to desktop or just move it to the Applications folder. To do this simply click and hold the PHONE-LiNK icon and drop it on Applications folder or the Desktop.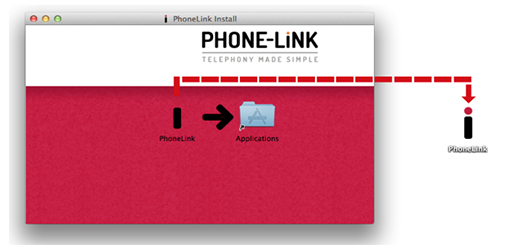 That's it you've just installed the PHONE-LiNK Mac Client software on your Mac. To run the application, simply double click on the PHONE-LiNK Application icon from the Applications folder or Desktop.